Over-the-street vinyl banners with wind slits are designed to be durable and weatherproof, ensuring that your message reaches a wide audience. They are made from high-quality vinyl material, making them resistant to tearing and fading for an extended period of time. They are also designed with wind slits so that they can withstand strong gusts of wind, making them ideal for outdoor advertising needs.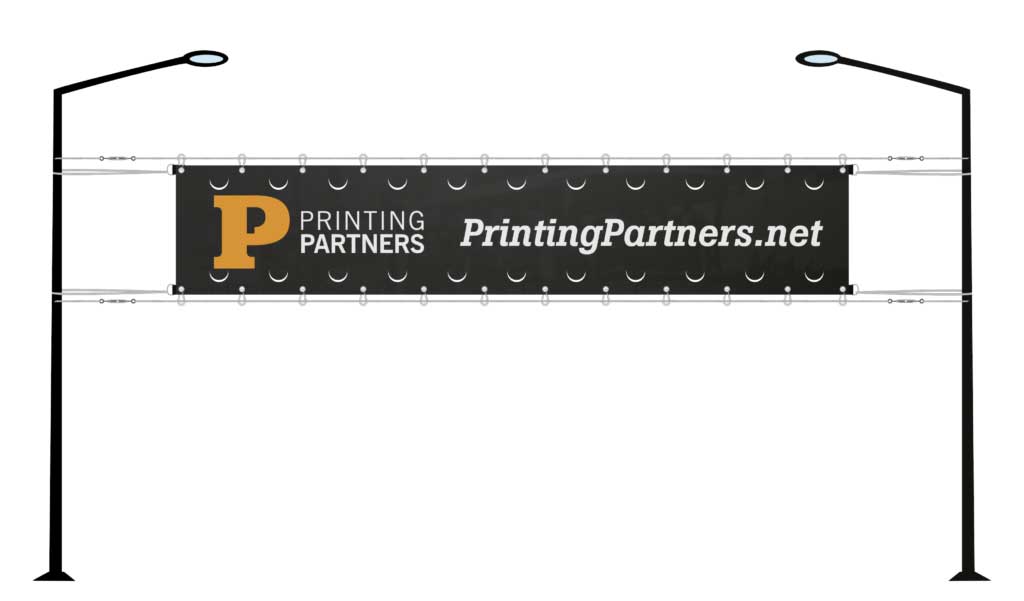 Key Features + Benefits of Neighborhood Over The Street Banners
Versatility - Vinyl banners are incredibly versatile, allowing for a range of sizes, shapes and designs to accommodate your specific needs. They can be hung over streets or between buildings, or even indoors in lobbies. You can also choose from different styles such as single-sided or double-sided prints depending on visibility requirements.
Cost Effective - Vinyl banners are a very cost effective way to advertise your business, organization or event. Being able to hang multiple banners in different locations for low costs makes it an ideal option for businesses on a budget. Additionally, the durability and weatherproof material used in vinyl banners mean that they will last many years with minimal maintenance required.
Wind Slits - Vinyl banners with wind slits are designed to protect against strong winds that could tear the banner off its mounting location. This feature ensures that your banner won't be damaged by the elements and can safely withstand high winds without tearing apart. The additional slits also help reduce vibration so the banner remains visible during windy conditions.
Durability - The strength and durability of vinyl banners make them highly resistant to wear and tear over time. The material is waterproof, UV resistant and fade proof meaning it will last for years despite exposure to the elements or frequent handling. This means that you don't have to worry about constantly replacing your banner as it will remain durable no matter what kind of weather comes your way!
Customization – With vinyl banners you have full control over design options such as color scheme, font selection and logo placement so you can create a professional look that stands out from the competition. You can also choose from single-sided or double-sided prints depending on visibility requirements giving you plenty of options when advertising your message across multiple locations.
Visibility – Vinyl banners offer excellent visibility making them a great choice for large scale marketing campaigns. Their bold colors ensure they stand out from any background making them difficult to miss even in busy urban areas where other signs might be overlooked by passersby. Banners also come in a variety of sizes so you can find one suitable for almost any space whether it's indoors or outdoors!