Brochure Printing Indianapolis
Simple and effective High Quality Bifold Brochures
Printing Partners is Indianapolis' premier brochure printing company. We specialize in high-quality bi-fold brochures, one fold brochures and other collateral materials for businesses of all sizes. Our team of experienced professionals is dedicated to providing our customers with the best possible printing experience, from design to delivery.
Bifold brochures are an effective way to get your message out there. A simple, yet comprehensive overview of your business or services. Also offers customers a tangible take-away that they can refer back to. Printed on different types of paper from standard weight to heavier stocks.
At Printing Partners, we understand the importance of delivering high quality brochures for our clients. That's why we offer brochures with advanced features such as the ability to customize them for each customer's needs. Plus, we guarantee reliable customer service and fast turnaround times so that you can get your brochures printed quickly. Create eye-catching bifold brochures that will make a lasting impression on customers!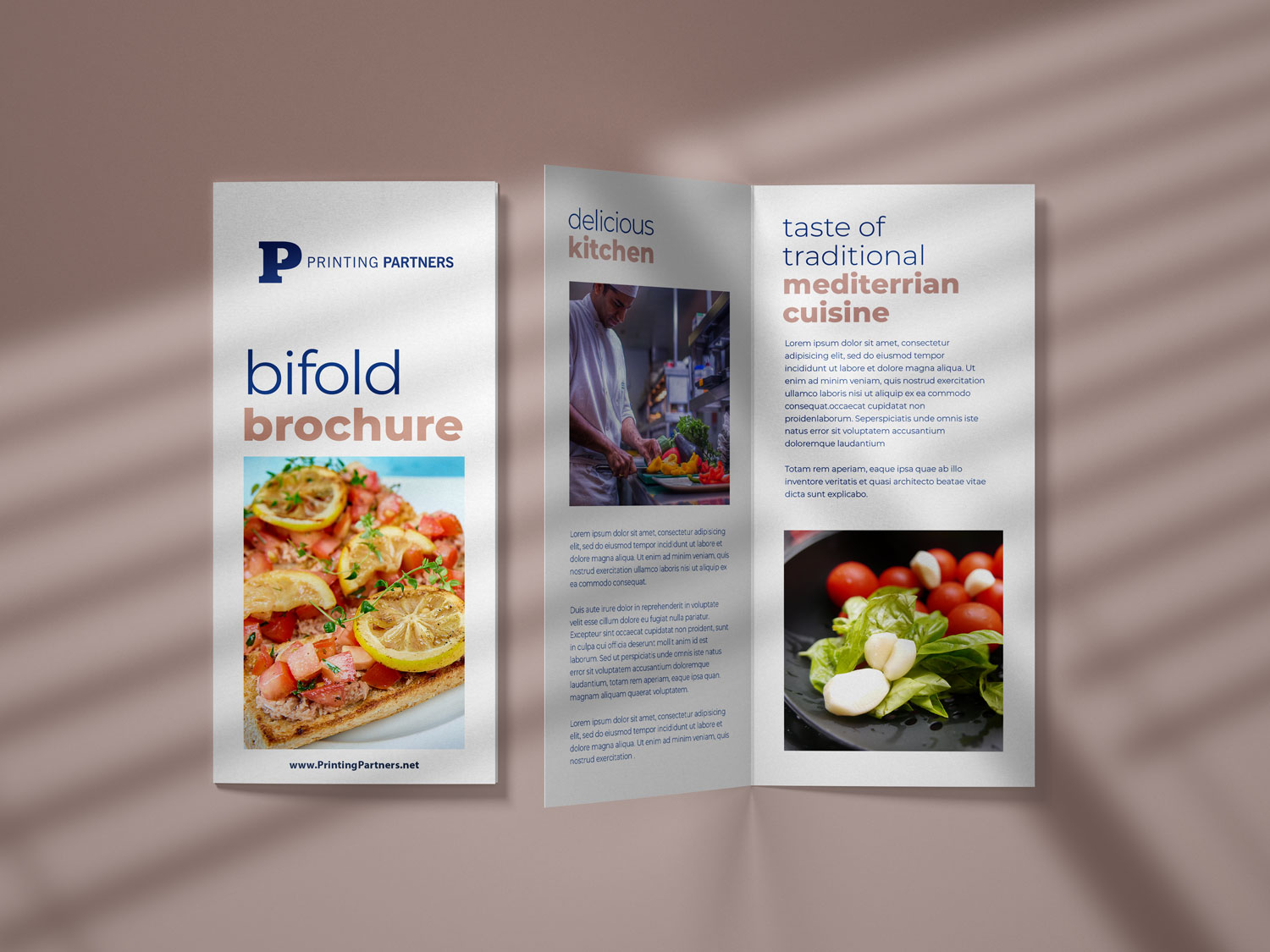 Special Printing Features Offered by Printing Partners
Printing Partners offers several special features to give your brochure an extra boost of creativity and appeal. Foil stamping is one of the most popular options available, as it adds a metallic finish to your brochure design. Soft-touch coating gives brochures a velvet-like feel. High-gloss uv coating ensures vibrant colors that won't fade in the sun.
We offer a range of bifold brochures with advanced features. Also with fast turnaround times so that you can get your brochures out quickly. Plus, we have special printing options. Foil stamping, soft-touch coating, and high-gloss uv coating to make sure your brochures stand out from the competition.
Paper Types for Brochures
We have many choices for any project! From luxurious thicker cards that cost a bit more to thinner, more affordable options. We will find the right price for you. Check out our Paper Types Explained page to learn more about paper types!
If you're looking for a reliable brochure printing provider in Indianapolis, look no further than Printing Partners. Our team of experienced professionals is dedicated to providing our customers with the best possible printing experience. Learn more about how we can help you create eye-catching bifold brochures that will make a lasting impression! Get started now and take advantage of our comprehensive brochure printing services and fast turnaround times.
Want a different type of folded brochure?
There are several types of folds available when creating a brochure, each with its own unique benefits.
The accordion fold is an efficient way to create a long and narrow brochure, opened from multiple areas. This type of fold allows for large amounts of information to be included. Also without taking up too much space or being overwhelming for readers.
The trifold fold has three panels - the two outside panels fold inward, while the middle panel folds outward. When viewing the brochure from the front, the right panel is visible and then folds inward. The left panel then folds inward, revealing all three sides of the inside of the brochure when opened.
A gatefold is a type of fold that consists of two flaps that open like a gate. The two outer panels are folded inwards towards the middle panel, creating a 'gate' shape when opened outward. The middle panel can also be folded in half along its vertical axis to create an even more dramatic effect.
A double parallel fold is a type of folded brochure that consists of four panels. The two outside panels are folded inwards towards the middle, while the inner two panels fold outwards away from each other. When opened, all four panels are visible and can be used to provide detailed information about whatever topic you're trying to communicate.
The benefits of using different types of folds in a brochure are numerous. By utilizing different fold types, you can create visually appealing designs that draw attention from readers and viewers. The various folds also allow you to break up content into easily digestible parts. So that readers can quickly skim through the most important points without feeling overwhelmed by long text blocks.
Furthermore, each type of fold offers its own unique way to showcase your message or product in an impactful way. This is especially true with gatefold and French fold designs that make use of larger images and stories.
Creating an effective brochure using different types of folds requires careful planning and design strategy. Consider the size, shape, and content of the brochure before deciding which type of fold to use. You also need to consider how you will structure the content. Figure out how to best utilize each fold type.
When designing the brochure, focus on creating a cohesive and consistent look that grabs readers' attention. Make sure you also pay attention to color palette and typography choices. These elements can have a huge impact on the overall impression of your design. Finally, use high-quality images and graphics to make your brochure stand out from the rest.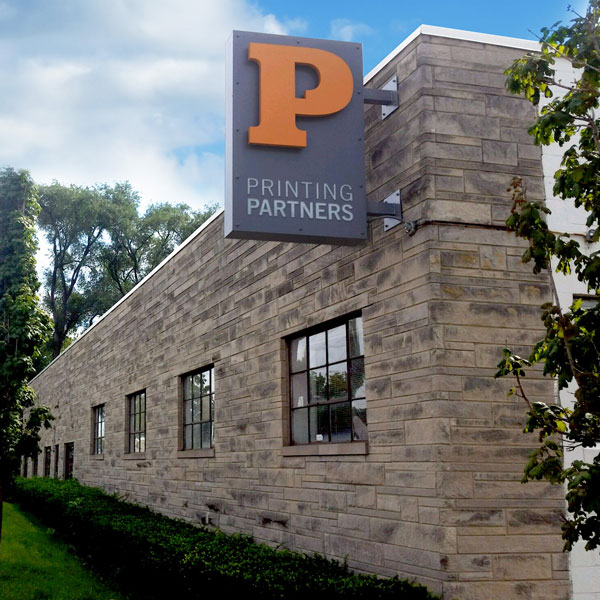 Printing Partners has been a trusted name in the commercial printing world since 1989. A family owned business. It has grown over the years, now boasting more than 115 employees and a sizable facility on W. 16th Street. Printing Partners provides outstanding quality finishing with every product they manufacture.
From small batch orders to mass production runs, Printing Partners expertly handles all types of printing services. They are renowned for their high-quality offset printing techniques and attentive customer service. With experienced staff and the latest in machine technology, they ensure each order meets or exceeds their customers' expectations. Plus, their commitment to the environment ensures that every project is completed with minimal waste and maximum efficiency.
Printing Partners offers both offset and digital capabilities. Also in-house mailing services and finishing, Printing Partners serves a broad range of business and institutional clients. Many of its clients do a significant amount of direct mail. Printing Partners has the expertise and equipment in place to do it in the most cost effective way.